Itzhak Perlman and James Taylor in 48 Hours
My wife and I had the unusual pleasure of seeing both the great violinist Itzhak Perlman and singer-songwriter James Taylor perform in the space of two days. Their artistry, virtuosity, and passion left me reeling.
This is about the two concerts, but at a bigger level its about the powerful collision of excellence, passion, and joie de vivre–and why it's so important for all of us.
Perlman, who is 69, is considered one of the greatest violinists in history. His accomplishment is all the more striking given that he contracted polio as a child and was crippled. When I saw him 35 years ago in Boston, he could walk–barely–with leg braces. This time, at Avery Fisher Hall in New York City, he was in a wheelchair. Perlman produced an extraordinary tone from his violin–it was alternately sweet, melancholy, energizing, soft, and penetrating. He gave the impression of effortlessness as he performed a variety of pieces by Vivaldi, Beethoven, Schumann, and Ravel, accompanied by the brilliant pianist Rohan de Silva. For most of the two hour concert, Perlman played entirely from memory, with no written music.
Perlman was at once confident, commanding, and humble. The 2700 people in the sold-out hall hung on his every note and gesture. Two words jump to mind in thinking about his performance: Transcendent and joyous. Perlman exuded joy throughout, and the combination of his impeccable playing and the timelessness of the music took us out of this world. Towards, really, the divine.
We saw James Taylor two days later at Madison Square Garden. Taylor, 66, has sold 100 million records. I put him in that rarefied pantheon of singer-songwriters who not only compose great music but write thought-provoking lyrics as well–think Paul Simon, the Beatles, Bob Dylan, and so on. He is also unusual in that he has continued to write good songs for nearly 40 years now–most pop musicians do their best (and often only worthwhile) work before they turn 35, when they lose the youthful angst that fuels chart-topping pop songs about love and loss. Despite being in his mid 60s, Taylor's voice is as sweet and smooth as it was when he recorded his second, breakthrough album Fire and Rain in 1970. I noticed that he still plays his hits in the original keys, in contrast to some aging rockers who–no longer able to hit the high notes–move their songs into a lower key.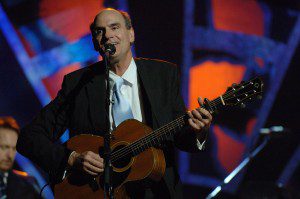 Madison Square Garden was packed with adoring fans, one of whom told me it was his 17th James Taylor concert (only my fourth!). In a slightly comic note for this aging baby boomer, when Taylor and his band finished the concert and went offstage, people raised their cellphones in the darkness with a candle app opened up to encourage an encore. It was meant to imitate the lit matches and lighters that we used to hold up during such moments in the 60s and 70s. Well, I guess a cell phone is probably a safer way to do it. Not all was lost to nostalgia, however–early in the show we got a serious whiff of weed (aka Marijuana) as the smoke blew past our seats.
Most of us will never reach the heights of virtuosity achieved by Itzhak Perlman and James Taylor. But we can become truly excellent at what we do. And most importantly, we can exude passion for our chosen work. When you put the two together–accomplishment at your craft, and passion–you get closer to what the French call joie de vivre, or joy of living.