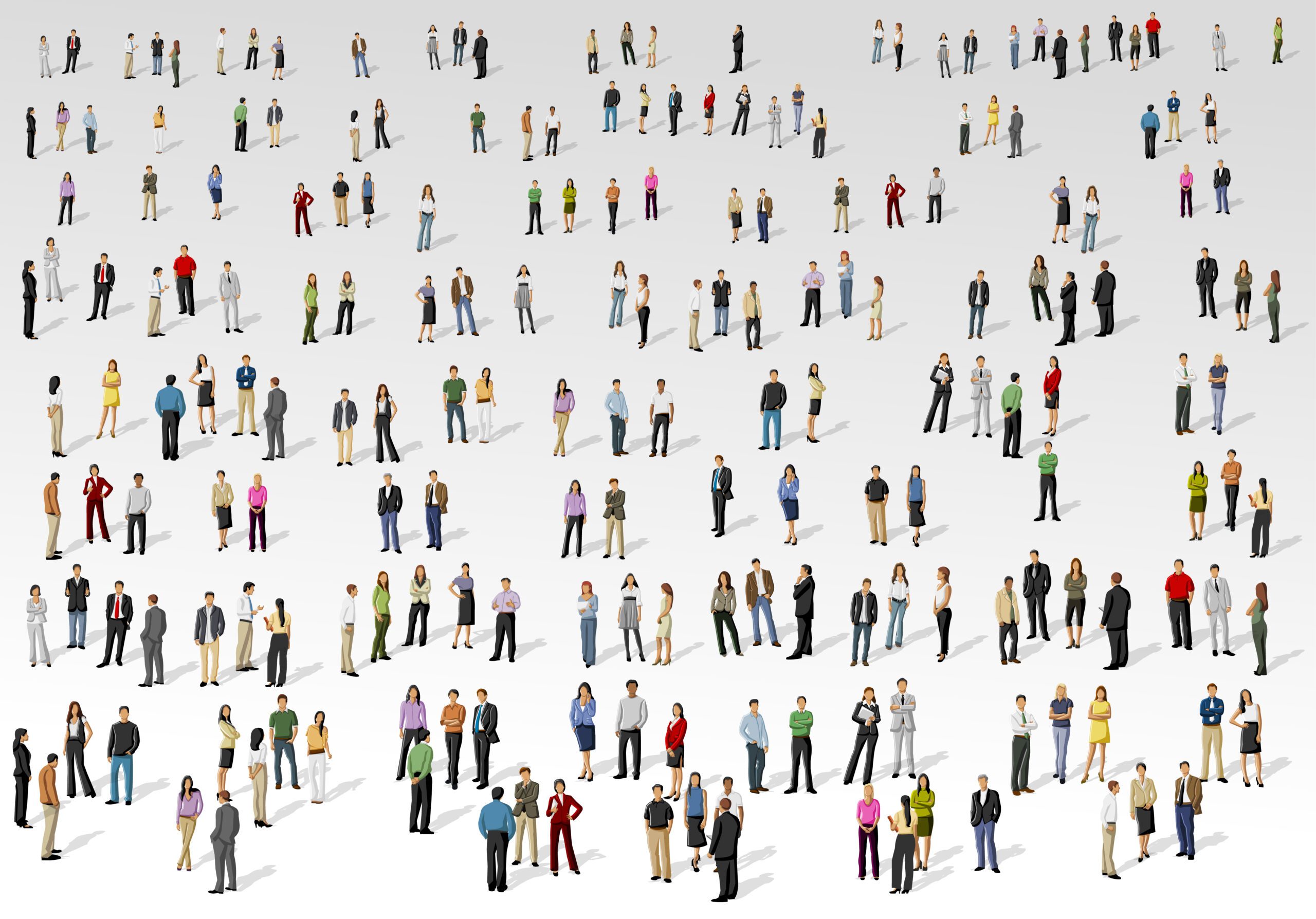 How to Prioritize Your Client Opportunities
All that glitters is not gold
One of my clients proudly served a leading Fortune-500 company. It was part of their key account program and often mentioned as a success story. Viewed from afar, it was a showcase relationship that generated significant annual revenues. However, when I reviewed the account with them, I realized that all was not well in Eden. I discovered several serious red flags—for example:
The company used their buying power and a merciless procurement process to constantly contain and drive down prices for my client's services. As a result the relationship yielded wholly unsatisfactory profit margins.
Because there was no senior executive sponsor for my client, they worked on many small, transactional engagements that were often non-strategic. They were a vendor, not a trusted partner.
The company had a workaholic, command-and-control culture, and they were very tough on my client's people. In fact, my client had trouble staffing the account, and had to periodically intervene with the client to set more humane boundaries.

There were some other dismaying aspects to the account which, taken together with the points mentioned above, painted a rather different picture then the internal PR. Given my client's desire to develop fewer but more strategic client relationships, this so-called flagship client either needed to be renegotiated and turned around or de-prioritized in favor of more attractive opportunities.
In other cases, I have had clients who served a long tail of small clients that produced some net contribution to their overheads but consumed huge amounts of management time. The opportunity cost was not recorded in their accounts, but it was massive. People couldn't get re-focused on their highest-value opportunities because they clung to the relatively paltry but "safe" revenues from these small relationships.
So how do you determine where to invest? On a practical level, if you are a client-facing practitioner, how do you choose where to spend your time to create the greatest value—both for clients and for you and your firm.
I have several lenses I like to use in assessing the attractiveness of different client opportunities. The first is a relationship health scorecard for evaluating existing client relationships. The second is a general set of criteria that will help you determine whether to accept new business to begin with. Use these lists in conjunction with each other as you decide where to invest and how to optimize your client portfolio.
Measures of current relationship health
Here are seven factors you should assess. Your answers will guide how and when you decide to invest or even disinvest in the relationship going forward:
1. Mutual Trust. Does each party believe the other is looking out for their interests and prepared to always come through for them and deliver on their promises?
2. Respect. Does the client treat you with esteem and regard? Do they make you feel like a valuable part of their team? Do they treat your people well?
3. Transparency. Does the client willingly and openly share their plans and priorities with you? Or are they a closed book?
4. Access. Do the right executives open their schedules to you and make time to meet and talk about their challenges and hear about your ideas for their business?
5. Loyalty. How loyal is your client? Will they always use you in your area expertise—or do they bid out every contract in an RFP? (I realize some organizations, e.g., government agencies, must do this by law…but loyal relationships are still important with these types of clients. They give you insights that can help you win the competitive bids).
6. Mutual value. Does the client perceive strong value from the relationship? Similarly, does it provide an acceptable ROI for you?
7. Overall role and positioning. Where would you place this relationship in the Client Growth Matrix, below?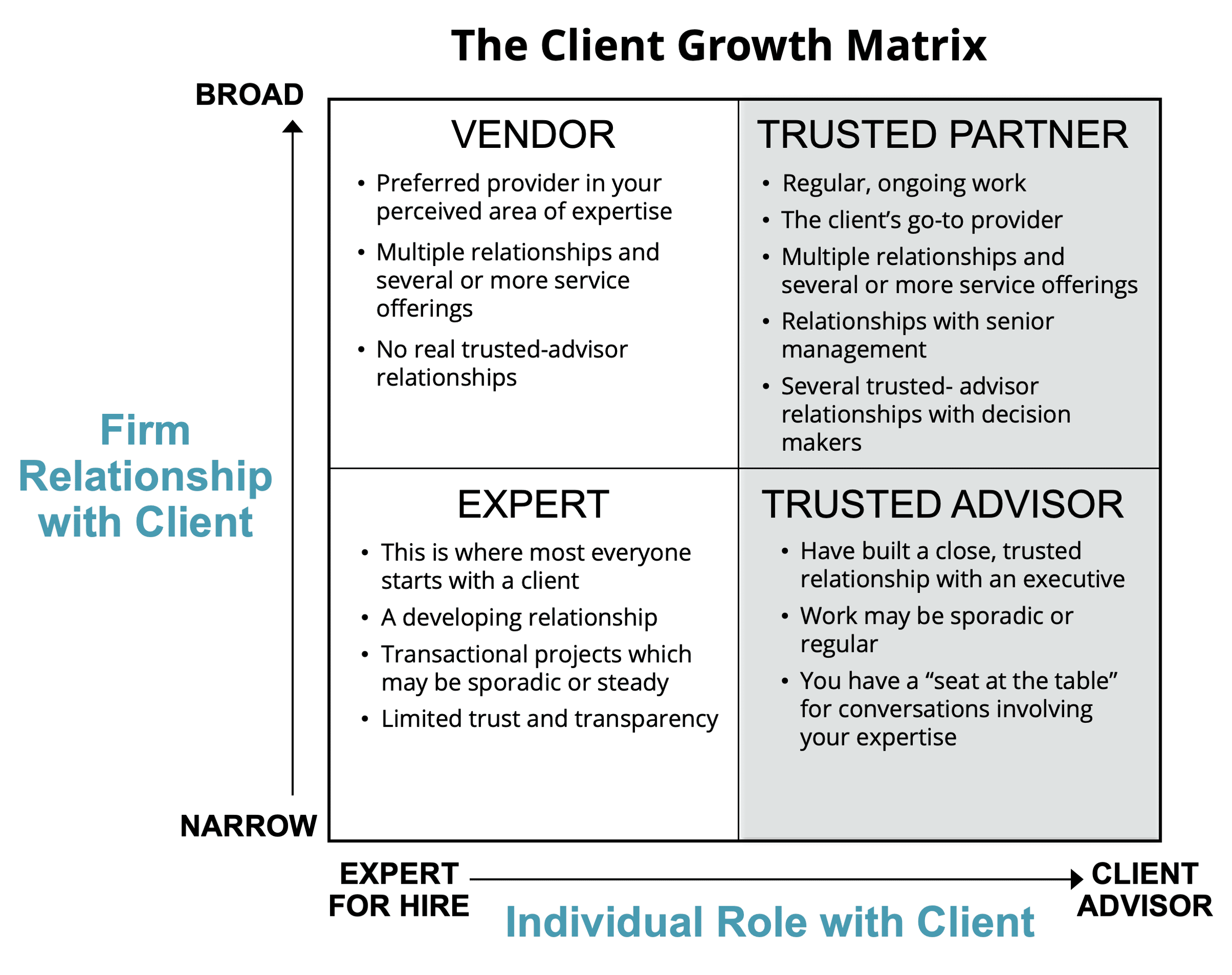 Where would you position your client relationships in the matrix?
If you can answer "yes" to factors 1 through 6, you would hopefully see steady, positive outcomes in the relationship—e.g., a depth and breadth of relationships, steady or growing revenue and profit based on partnering with the client to address high-priority issues, unsolicited referrals and a willingness to provide strong testimonials about your work, and so on.
Criteria for accepting new work
Here are six factors you should consider:
1. Is this the right client—does it fit with your strategy? Is it in the right industry? The right size? Are they buyers of what you sell? Is it in the right geography? Does the client meet your firm's criteria for client selection?
2. Is it the right issue? Is the problem or opportunity in your sweet spot? Has the client adequately defined the engagement in a way that will allow you to succeed?
3. Can you have a real impact? Is the client large enough? Does it have strong leadership? Are their leaders determined to effect real change?
4. Are you working with the right executive sponsor? Is it the right executive for this particular project/engagement?—someone who is respected and wants to drive change through to completion? Will they commit not just to buy the work but ensure it succeeds?
5. Is there relational fit? Is this a client who values long-term relationships with external providers? Is there the potential for a trusted partner relationship with this client—if you earn the right—or will they treat you like a commodity vendor? Will you be seen as an expense to be cut at any time, or a valued investment?
6. Are there other compelling reasons to work (or not) with this client? For example:
Is it a respected, marquee client who will enhance your own reputation?
Will the work strengthen your intellectual capital and capabilities?
Are there important, relational advantages to working with the client (e.g. you will get access to new, powerful networks and relationships)?
Would working with a particular client preclude you from serving a different, more attractive organization? (This is something law firms and accounting firms, for example, must carefully consider.)

You and your firm have limited resources. Limited time. Limited cash to invest in marketing, sales, and relationship development. Limited leadership bandwidth and attention. You must make choices, or you will be consigned to mediocrity.
Remember, when it comes to cultivating client relationships, intentional focus and investment in the right clients and opportunities nearly always yield growth.