My online programs have helped leading organizations around the world consistently win more new clients, grow and sustain their existing relationships, and connect in the C-suite. With leading-edge, pragmatic content, they help client-facing professionals—whether they're going through a program in a group of 50 or 1000—build their clients for life.
Typical outcomes include:
A shift from the "expert for hire" to the "client advisor" mindset, leading to deeper, broader client relationships and increased loyalty
Greater revenue growth and more revenue per client
Increased C-suite access and relationships with key decision makers
Many-to-many relationships with major clients, helping to earn trusted partner status
Being seen by clients as an essential investment in their growth rather than an expense that can be cut at any time
The Expert Versus Advisor Mindset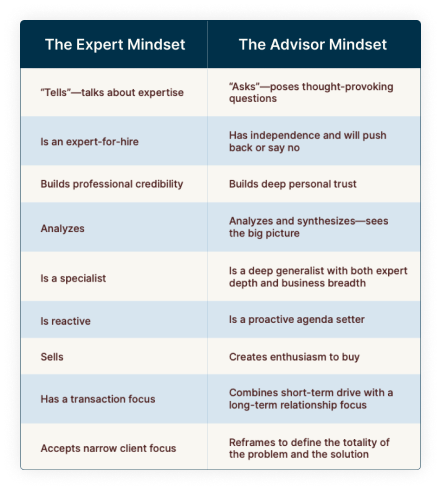 Enterprise clients can get access to:
Significant volume discounts based on the number of participants
My roadmap for structuring a blended learning initiative that combines online content, small group meetings, and live plenary sessions
Regular, post-program learning nudges that reinforce key strategies and help change habits for good
A training guide for small group leaders who will be facilitating monthly meetings
For large-scale efforts, consulting advice and personal facilitation of virtual-live plenary sessions
Please click on any of the programs to learn more. You can send an inquiry through the form, below.
Make a powerful shift from expert for hire to client advisor and achieve true client development mastery. Earn the Client Advisor Certification with this in-depth set of masterclasses for experienced practitioners.
Consume these short, incisive lessons anytime, anywhere as you learn to develop your trusted advisor skills and grow your client relationships. For anyone who is in client management or sales.
Develop the key relationships that will give you access to the best opportunities, get your ideas accepted, and accelerate your career. For early- to mid-career professionals.
Please contact me to discuss your needs
Leading organizations who
have used Andrew's programs include