Keynote Speaking
Develop Clients For Life
Improve Trusted Advisor Skills
Create A Client-Centric, Rainmaking Firm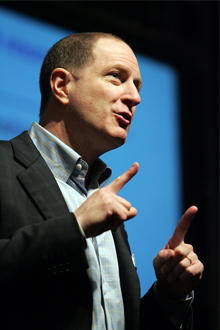 Andrew took the time to really understand our culture and our challenges. He worked with our senior team ahead of time to craft a customized approach and messaging. His program created a clear path for our leadership team to build an "All-for-One, One-for-All" Company. His presentation was creative and engaging and scored higher on our satisfaction survey than any other speaker!
Andrew is an acclaimed speaker who delivers high-energy, engaging keynote speeches to clients around the world. As the leading authority on how to develop and institutionalize long-term client relationships, Andrew's content is original and provocative. His message is extraordinarily relevant to companies that want to differentiate themselves and grow in increasingly crowded markets.
Speaking topics include:
Develop Your Clients for Life
Create trusted client advisors
Build an all-for-one firm
Innovate and collaborate using the Beatles Principles
Unleash the power of Power Questions
Andrew's speaking clients have included Citigroup, Xerox, Experian, Hess, Ernst & Young, Deloitte, Grant Thornton, CGI, Cognizant, ZS Associates, Fulbright & Jaworski, UBS, Lloyds Banking Group, Booz Allen Hamilton, Booz & Company, Bain & Company, Spencer Stuart, and dozens of other leading organizations.
Interested in systematically building your trusted advisor skills? Read about Andrew's customized workshop offerings and curriculum development services.
Watch Andrew Speak
Watch this keynote speech excerpt from a recent event with an audience of 600
I love to learn but I don't like to be taught, which is why I especially valued your keynote presentation on client partnership. I learned a lot from it but there was no lecture. You did an excellent job.
Your presentation, which used the Beatles to illustrate teamwork, innovation, and client loyalty, really blew our partners away.
I have been going to conferences like this for over 20 years, and I rate your speech in the top five I have ever heard