Growing Client Relationships
Are You Growing Your Client Relationships?
In studying a large number of trusted client partnerships, I have observed the consistent use of six specific growth strategies. Before jumping into these, however, I have to re-emphasize how important it is to pick the right client to begin with. Here are some questions you should ask yourself in order to determine if you're working with the right client:
Can this client pay the level of fees that you deserve and require?
Is this a well-known and respected organization? Will your own reputation be enhanced by working with them?
Will you develop new or enhanced intellectual capital through your work with this client?
Is this client large enough to afford a long-term relationship with you and pay your fees on an ongoing basis?
Does management have a relationship orientation? Do they have a history of forming trusted relationships with external service providers?
Is the leadership strong? Machiavelli wrote in The Prince, "A prince who is not himself wise can never be well-advised." The worst thing to have is an insecure client who is not well respected internally.
Are you working at the right level in the organization? If not, you may be treated like a commodity vendor.
Are there other compelling reasons to work with this client? (E.g., Fun? Interesting travel? No travel?)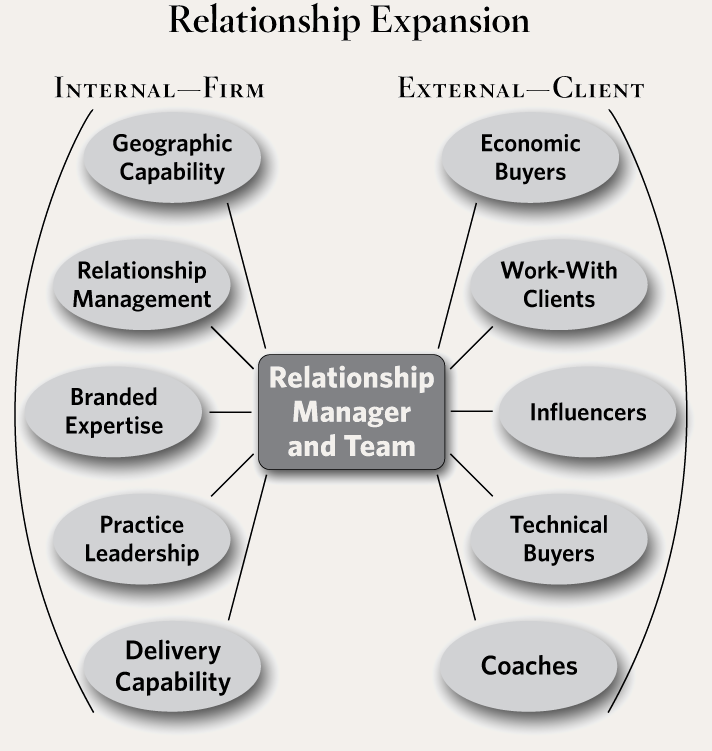 Once you have determined this is the right client, here are six strategies to consider as you think about how to grow the relationship.
Focus. If you pick the right client, focus and investment create relationship growth. You must decide where to make your bets and then double-down on the most promising opportunities. Invest to get to know the client's senior executives. Invest to get to know their business. Invest to create points of view about the future direction they should be taking, and how they can improve current operation.
Relationship expansion. This means building many-to-many relationships with the client's organization, and also expanding and strengthening your internal relationships at your own firm (that is, if you work for a large organization). As one chief financial officer put it, "When we make a decision about which firm to go with for a major transaction or project, I get all of my staff together, and every head must nod." It's no longer about just a single connection. The diagram, above, illustrates how a relationship manager needs to expand and deepen relationships both internally and externally with key individuals who play different roles.
Capabilities expansion. Clients like to pigeon-hole their external advisors, and it's your job to demonstrate your breadth. You do this, first of all, by connecting to your client's agenda and being agile in talking about his or her broad business issues; and then building trust in your ability to help address them. You can develop this trust by showcasing your firm's capabilities. This can be done in many different ways.
You might bring in other colleagues who are "branded experts"; introduce your client to another client who has used you for a broad ranger of services; invest time to develop an incisive point of view on an issue of importance to your client—I call this the "deep dive"; or even organize an all-day workshop around a specific topic where you bring in your experts to meet with their counterparts in the client's organization. Remember that "cross selling" rarely works—it's a seriously discredited notion; "integrated selling" or solution selling does work, where you identify a need, illustrate how you can meet it, build trust in your capability, and then allow the client to become a buyer.
Relationship management intensity. To go from good to great with a client, you have to become much more focused and systematic about a broad set of relationship management activities. These include regular communications; formal expectations setting; systematic orchestration of many-to-many relationships; and so on. At the Steady Supplier and Trusted Advisor levels, you can get away with low-key, ad-hoc, informal relationship management—but that's not sufficient to sustain a Level 6 Trusted Partnership.
Team leadership. Trusted Client Partnerships are built by teams, not one or two individuals, and you want your client relationship to become a place where the best professionals in your firm aspire to work. In any professional services firm, all of the associates know which partners are awful to work for and which ones create a great environment on their teams—and they avoid the former like the plague. You have to go from simply staffing a project to leading and inspiring a team, coaching the individuals on it, and showing a keen interest in their personal development.
Client Account Planning. Effective client account planning is the fuel that energizes the first four growth pathways. Remember that "no client plan survives contact with the client." Account planning should be a dynamic process that involves the client upfront and creates an ongoing dialogue.
Finally, in line with the need to choose the right company and organization: Never underestimate how important it is to have an ambitious executive as your client. Ralph Shrader, the chief executive of Booz Allen Hamilton, put it this way to me: "In order to build a broad-based, institutional relationship, you have to have a client who is intent on accomplishing his goals but who also sees himself as part of a larger mission. The client has to realize he is on a bigger stage and can accomplish something very significant."