Andrew's Blog
The Business of Relationships
1
2
3
4
5
February 27, 2014
By Andrew Sobel The story about Sir Isaac Newton and the apple tree, according to historians, is true. While sitting under the tree, he saw an apple fall straight to the ground. This made him wonder what underlying principle was…
November 21, 2013
How would you rate the overall client experience that you offer?
August 12, 2013
Have you ever gotten a call from a client who said, "I just want to run something by you"? Perhaps on a different day that same client asked you, "How's my team doing?" On yet a different occasion he or…
November 2, 2012
Paradox: "a person or thing exhibiting apparently contradictory characteristics" In studying great client advisors all over the world, it has always struck me how pardoxical the role of trusted advisor is. Those who are best at it manage to balance…
November 1, 2012
Keep Your Client Relationships Healthy Last month we looked at the indicators of client relationship health. Now, here are the questions you should ask your clients directly. A client of mine recently told me about how he had dodged death…
March 19, 2012
Can you suggest any "power questions" to use when a client asks for a discount?
February 23, 2012
How can I build a peer relationship with senior clients?
February 8, 2012
Management Consulting News' Michael McCloughlin interviews Andrew Sobel about using Power Questions to acquire new clients and deepen relationships with existing clients.
October 27, 2011
I try to quantify the value of my proposals but sometimes my clients just scoff at the numbers. They are cynical about projections of value-added.
July 30, 2011
I have a client who bids out each project, despite the fact that we have a long-term relationship. What can I do?
Showing 21-30 of 169
1
2
3
4
5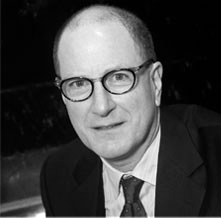 I help companies and individuals build clients for life
more about me >>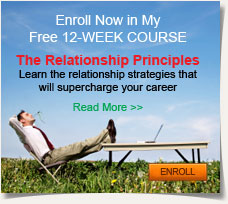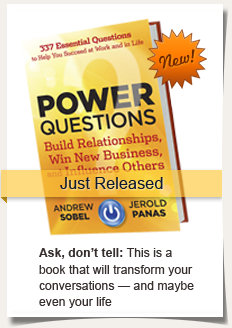 Buy it now
Amazon.com
Kindle
BN.com
Nook
Read More about it >>