Customized Workshop Offerings
Developing Trusted Advisor Capabilities
Embedding skills, behaviors, and best practices
The ability to act as a trusted advisor and develop long–term client relationships is based on a delicate blend of skills, behaviors, and best practices. These can be learned, but they are difficult to teach.
Andrew helps clients develop the trusted advisor capabilities of their people in three ways: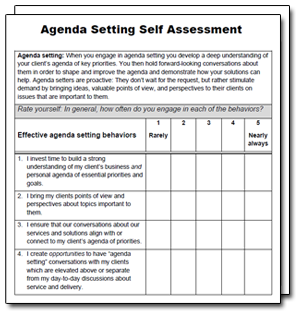 Integrated learning programs. These usually combine formal professional development sessions, coaching, self study, teleseminars, small group work, and online access to multimedia resources. Andrew is available to personally lead a limited number of on-the-ground learning programs each year.
Communities of Practice. Andrew helps clients implement "communities of practice" which are focused on building longterm, trusted advisor relationship with key clients. These communities are usually aligned around a geographic location, industry sector, or other dimension. Typically there is a phase one program to create the community and get it up and running, and a phase two that maintains and expands the community.
Turnkey Curricula. For clients in a variety of industries, Andrew has developed a customized curriculum to develop relationship managers (including partners, managing directors, account executives, directors, etc.). These rich course materials allow leaders to run small group sessions with their teams, simultaneously developing skills and also building and executing deeper and richer account development plans for key clients.
A key to success for any of these approaches is continuous senior management support. One-off or "start-stop" efforts do not yield much fruit. Properly implemented, these programs have an extraordinary return on investment.
VIEW A SELECTION OF ANDREW'S VIDEOS